Checkbook Cover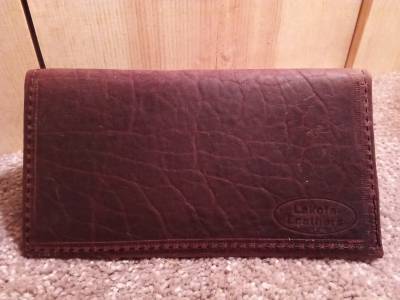 Introducing the Lakota Leathers Checkbook Cover - the perfect accessory for keeping your checks organized and protected!
Handcrafted from the finest full-grain Bison leather, this checkbook cover is not only durable but also beautifully designed. With its timeless style, it will be a piece that you can use for years to come. The leather will age gracefully, developing a unique patina that will only add to its charm.
The Lakota Leathers Checkbook Cover is designed to hold standard-sized checks and register, keeping them organized and secure.
Whether you're paying bills or writing a check for a special occasion, you'll love the look and feel of our checkbook cover. It's the perfect combination of form and function, making it a great gift for yourself or a loved one.
So why settle for a boring, plain checkbook cover? Upgrade to the Lakota Leathers Checkbook Cover and enjoy the luxury of premium leather while keeping your finances organized!
While we don't have the facilities to manufacture these ourselves, we have sourced these products which are made from 100% genuine USA plains bison leather. Guaranteed to please these fine products make even the most discriminating customer smile!
Specifications
Color
Full Grain Bison!
Price: $25.00
Shipping is included to United States addresses. Please click the button below to add the International Shipping fee. Up to three (3) straps can be shipped for this low, flat fee.
| | |
| --- | --- |
| International Shipping: $20.00 | |
If you would prefer to pay by check, credit card or money order rather than using PayPal, please contact us by phone and we will be happy to take your order.