Bison Bifold Wallet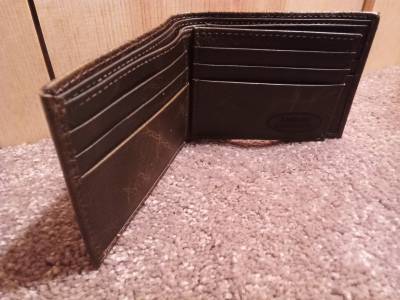 Introducing our Lakota Leathers bifold wallet, crafted from the finest bison leather. Handmade with precision and care, this wallet is designed to be your perfect companion for years to come. Bison leather is renowned for its exceptional durability and strength, making it the ideal material for a wallet that can withstand the rigors of everyday use.
Inside, you'll find ample space for all your essential cards and cash. With multiple card slots, a spacious bill compartment, and a clear ID window, organizing your finances has never been easier. The slim and sleek design of this bifold wallet fits perfectly into your pocket, making it easy to carry around without adding unnecessary bulk.
In addition to its practicality, the Lakota Leathers bifold wallet exudes style and sophistication. The rich and supple bison leather is complemented by the intricate stitching and timeless design, making this wallet a true work of art.
Invest in the Lakota Leathers bifold wallet, and you'll have a reliable and stylish accessory that will last for years. Upgrade your everyday carry with the premium quality of bison leather, and experience the ultimate combination of form and function.
While we don't have the facilities to manufacture these ourselves, we have sourced these products which are made from 100% genuine USA plains bison leather. Guaranteed to please these fine products make even the most discriminating customer smile!
Specifications
Color
RFID protected
Price: $50.00
Shipping is included to United States addresses. Please click the button below to add the International Shipping fee. Up to three (3) straps can be shipped for this low, flat fee.
| | |
| --- | --- |
| International Shipping: $20.00 | |
If you would prefer to pay by check, credit card or money order rather than using PayPal, please contact us by phone and we will be happy to take your order.