Bison Leather conditioner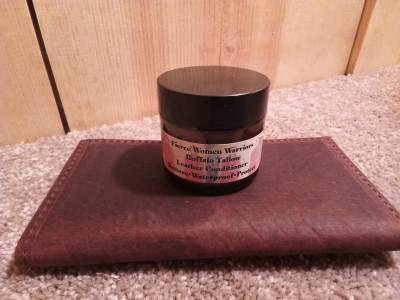 Keep your leather goods looking and feeling like new with Lakota Leathers leather conditioner. Our all-natural formula is made without any harsh chemicals, so you can trust that it's safe for your leather and for the environment.
What makes our leather conditioner truly special is that it's made by Native American artisans using traditional methods. We use only the finest natural ingredients, including buffalo tallow and essential oils, to nourish and protect your leather.
Not only will our leather conditioner extend the life of your leather goods, but it will also enhance the natural beauty of the leather. With regular use, your leather will become softer, more supple, and more resistant to wear and tear.
Try Lakota Leathers leather conditioner today and experience the benefits of an all-natural, Native American-made leather care product.
Specifications
Color
Tallow & Essential Oils
Price: $25.00
Shipping is included to United States addresses. Please click the button below to add the International Shipping fee. Up to three (3) straps can be shipped for this low, flat fee.
| | |
| --- | --- |
| International Shipping: $20.00 | |
If you would prefer to pay by check, credit card or money order rather than using PayPal, please contact us by phone and we will be happy to take your order.